American healthcare is taking a toll on America's health. Costs outpace economic growth, medical debt plagues millions, confusing and surprising bills infect further more, insurance premiums and deductibles are out of control, and at the end of the day we're not even receiving better care as a result of all this change.
In part one of a three part series, we will hear three personal stories as we try and make sense of where American healthcare went wrong - and how we can get it back on track.
Subscribe now on: iTunes | Google Play | Stitcher | Soundcloud | Spotify | RSS | or search "Ashes Ashes" on your favorite podcast app.
This is part one of a three part series on the American healthcare system:
Chapters
06:31 Juanne from Ontario
11:44 Insurance and surprise charges
17:55 Insurance's humble origins
20:06 Insurance competition raises costs
24:40 Hospitals flex their power
32:44 Joel from DC
37:11 American medical coding oddity
48:24 Emergency service private equity
53:07 "Residency and training, or free labor?"
56:29 Matt from Nashville
1:03:57 What can we do?
Reommended Reading
---
We corresponded with Winston from the North East US who offered some insightful comments from his experience working as a contractor call center agent for a major insurance company, and later in legal marketing for a firm that worked with Social Security cases:
I've had to tell the elderly about the plans they had with their insurer - many times they had no clue what they had agreed to. I've had to tell people that their drugs wouldn't be covered for a large part of the calendar year, but after they spent thousands, they'd get coverage for a few months until the cycle started over again ( the Medicare "donut hole"). I can point out forums where people ask unqualified marketing specialists for help with getting their family members on Medicaid. I've seen people ask how a divorce would aid their ability to get Medicaid for their kids. I've had to tell many people that I cannot help them.
Read the full correspondence here
---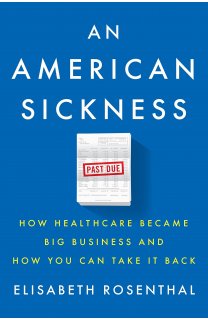 Sources



@book{American Public Health Association_Conference of state and provincial boards of health of North America_1899, title={The Bertillon classification of causes of death}, url={http://archive.org/details/bertillonclassif00amer}, publisher={Lansing Mich. R. Smith print. co.}, author={American Public Health Association and Conference of state and provincial boards of health of North America}, year={1899} }




@misc{Daniel Morgan_2018, title={Doctors are surprisingly bad at reading lab results. It's putting us all at risk.}, url={https://www.washingtonpost.com/news/posteverything/wp/2018/10/05/feature/doctors-are-surprisingly-bad-at-reading-lab-results-its-putting-us-all-at-risk/}, journal={Washington Post}, author={Daniel Morgan}, year={2018}, month={Oct} }




@misc{Don McCanne_2014, title={Center for Public Integrity on the Medicare Advantage Money Grab}, url={http://pnhp.org/blog/2014/06/05/center-for-public-integrity-on-the-medicare-advantage-money-grab/}, journal={PNHP}, author={Don McCanne}, year={2014}, month={Jun} }




@misc{Epstein_Strodel_2018, title={Diabetes Patients at Risk From Rising Insulin Prices}, url={https://www.nytimes.com/2018/06/22/well/diabetes-patients-at-risk-from-rising-insulin-prices.html}, journal={The New York Times}, author={Epstein, Randi Hutter and Strodel, Rachel}, year={2018}, month={Jun} }




@misc{Erika Regulsky_2016, title={10 Medical Billing reports that will make Medical Practices Profitable!}, url={https://www.billingparadise.com/blog/10-medical-billing-reports-that-will-make-medical-practices-profitable/}, journal={BillingParadise}, author={Erika Regulsky}, year={2016}, month={Mar} }




@misc{Gene Emery_2017, title={Uninsured in U.S. charged four times what Medicare pays for ER visit}, url={https://www.reuters.com/article/us-health-hospitals-price-gouging-idUSKBN18Q1U5}, journal={Reuters}, author={Gene Emery}, year={2017}, month={May} }




@misc{Hixenbaugh_Ackerman_2018, title={Memorial Hermann to merge with Baylor Scott & White creating largest health system in Texas}, url={https://www.chron.com/news/medical/article/Memorial-Hermann-to-merge-with-Baylor-Scott-13271983.php}, journal={Houston Chronicle}, author={Hixenbaugh, Mike and Ackerman, Todd}, year={2018}, month={Oct} }




@misc{Hu_2018, title={Spending on insurance plans has increased nearly 50% in the last 10 years, as healthcare costs in the US continue to skyrocket}, url={https://www.businessinsider.com/spending-on-insurance-plans-has-increased-nearly-50-a-new-report-says-2018-9}, journal={Business Insider}, author={Hu, Charlotte}, year={2018}, month={Sep} }




@misc{Ivory_Protess_Bennett_2016, title={When You Dial 911 and Wall Street Answers}, url={https://www.nytimes.com/2016/06/26/business/dealbook/when-you-dial-911-and-wall-street-answers.html}, journal={The New York Times}, author={Ivory, Danielle and Protess, Ben and Bennett, Kitty}, year={2016}, month={Jun} }




@misc{Jenny Gold_Sarah Kliff_2018, title={A baby was treated with a nap and a bottle of formula. His parents received an $18,000 bill.}, url={https://www.vox.com/2018/6/28/17506232/emergency-room-bill-fees-health-insurance-baby}, journal={Vox}, author={Jenny Gold and Sarah Kliff}, year={2018}, month={Jul} }




@misc{Kaiser Health News_2017, title={Patients don't pay hospital chargemaster prices, but they still can drive up payments, Health Affairs finds}, url={https://www.healthcarefinancenews.com/news/patients-dont-pay-hospital-chargemaster-prices-they-still-can-drive-payments-health-affairs}, journal={Healthcare Finance News}, author={Kaiser Health News}, year={2017}, month={Apr} }




@misc{Kaitlyn Schwers_2018, title={He couldn't afford insurance or insulin meds, and he died. His mom is speaking out}, url={https://www.kansascity.com/news/nation-world/article211260394.html}, journal={kansascity}, author={Kaitlyn Schwers}, year={2018}, month={May} }




@misc{KFF_2012, title={Explaining Health Care Reform: Medical Loss Ratio (MLR)}, url={https://www.kff.org/health-reform/fact-sheet/explaining-health-care-reform-medical-loss-ratio-mlr/}, journal={The Henry J. Kaiser Family Foundation}, author={KFF}, year={2012}, month={Feb} }




@misc{Lena Sun_2015, title={50 hospitals charge uninsured more than 10 times cost of care, study finds}, url={https://www.washingtonpost.com/national/health-science/why-some-hospitals-can-get-away-with-price-gouging-patients-study-finds/2015/06/08/b7f5118c-0aeb-11e5-9e39-0db921c47b93_story.html}, journal={Washington Post}, author={Lena Sun}, year={2015}, month={Jun} }




@misc{Mihm_2017, title={Employer-based health care was a wartime accident}, url={http://www.chicagotribune.com/news/opinion/commentary/ct-obamacare-health-care-employers-20170224-story.html}, journal={chicagotribune.com}, author={Mihm, Stephen}, year={2017}, month={Feb} }




@misc{Ron Shinkman_2014, title={Hospital-operated dialysis units dwindle}, url={https://www.fiercehealthcare.com/finance/hospital-operated-dialysis-units-dwindle}, journal={Fierce Healthcare}, author={Ron Shinkman}, year={2014}, month={Apr} }




@misc{Ron Shinkman_2016, title={The Big Business of Dialysis Care}, url={https://catalyst.nejm.org/the-big-business-of-dialysis-care/}, journal={NEJM Catalyst}, author={Ron Shinkman}, year={2016}, month={Jun} }




@misc{Rosenthal_2017, title={Those Indecipherable Medical Bills? They're One Reason Health Care Costs So Much}, url={https://www.nytimes.com/2017/03/29/magazine/those-indecipherable-medical-bills-theyre-one-reason-health-care-costs-so-much.html}, abstractNote={Hospitals have learned to manipulate medical codes — often resulting in mind-boggling bills.}, journal={The New York Times}, author={Rosenthal, Elisabeth}, year={2017}, month={Mar} }




@book{Rosenthal_2018, title={An American Sickness: How Healthcare Became Big Business and How You Can Take It Back}, ISBN={978-0-14-311085-9}, publisher={Penguin}, author={Rosenthal, Elisabeth}, year={2018}, month={Mar} }




@article{Rosenthal_Lu_Cram_2013, title={Availability of Consumer Prices From US Hospitals for a Common Surgical Procedure}, volume={173}, ISSN={2168-6106}, DOI={10.1001/jamainternmed.2013.460}, number={6}, journal={JAMA Internal Medicine}, author={Rosenthal, Jaime A. and Lu, Xin and Cram, Peter}, year={2013}, month={Mar}, pages={427–432} }




@misc{RRR_2018, title={There will be no local ambulance coverage provided to the citizens of Franklin County between the hours of 11 pm and 7 am.}, url={https://www.facebook.com/notes/rural-rapid-response-inc/franklin-county-911-services/1441737049292679/}, journal={Facebook}, author={RRR}, year={2018}, month={Oct} }




@article{Stephenson_Sykes_Stanojevic_Quon_Marshall_Petren_Ostrenga_Fink_Elbert_Goss_2017, title={Survival Comparison of Patients With Cystic Fibrosis in Canada and the United States: A Population-Based Cohort Study}, volume={166}, ISSN={0003-4819}, DOI={10.7326/M16-0858}, number={8}, journal={Annals of Internal Medicine}, author={Stephenson, Anne L. and Sykes, Jenna and Stanojevic, Sanja and Quon, Bradley S. and Marshall, Bruce C. and Petren, Kristofer and Ostrenga, Josh and Fink, Aliza K. and Elbert, Alexander and Goss, Christopher H.}, year={2017}, month={Apr}, pages={537} }




@misc{WHO_2004, title={History of the development of the ICD}, url={http://www.who.int/classifications/icd/en/HistoryOfICD.pdf}, journal={WHO}, author={WHO}, year={2004}, month={Oct} }




@misc{scalpel_2018, title={What is a "trauma activation" and why does it cost so much?}, url={https://www.physiciansweekly.com/what-is-a-trauma-activation-and-why-does-it-cost-so-much/}, journal={Physician's Weekly}, author={Scalpel, Skeptical}, year={2018}, month={Jul}} 



Published 11-10-2018 23:02